Dogs are a main enemy in
Rabbids go home
. The most common is the bulldog that will run at you and there is a variety of them: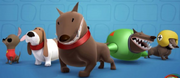 Bulldog:
Baset Hound:They jump when running:

Normal
Helmet:Won't be affected by scream attack.
Bomb helmet:Bomb on their head, they will slowly jump towards you and the bomb will explode leaving them upside-down.

Chiwawa:They attack when not looking at them, but they will run away if you do.
Ad blocker interference detected!
Wikia is a free-to-use site that makes money from advertising. We have a modified experience for viewers using ad blockers

Wikia is not accessible if you've made further modifications. Remove the custom ad blocker rule(s) and the page will load as expected.