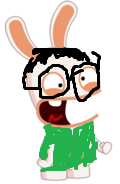 Bunny Student
is a
Rabbid with black hair on his head, wearing a school uniform of sorts. A few also have glasses. They appear only in "Bunnies Have a Great Ear for Music", where they, in a large group, sing
Ode to Joy
(but was known in the
Rayman Raving Rabbids
jukebox as Ubisoft Montpellier Choir) together. He appears to be dressed like Elvis Presley or Fonzie from
Happy Days
. A simple look alike Bunny Student later appears in a trailer of Rabbids Go Home as a agent. This Bunny Student always loses his glasses when he trips, just like he did when he tripped over something. There are changes to this student. He has a different kind of hair, and appears to be wearing a different suit. Plus, he has different kind of glasses. At the end, after the female rabbid goes down the rope, the Bunny Student falls down, and gets up, celebrating, but they all stop. A few seconds later, the Bunny Student finds a paper. After a few seconds at looking at it, the Bunny Student, outraged, throws the paper down. Then, the raged Bunny Student shakes the leader in a rage. This werid Bunny Student later appeared in the Rabbids Go Home Christmas short, where he got a typewriter. He got hit by the ball on the paddle. In the picture, he was shown with a black eye, but seemed to be fine.
Ad blocker interference detected!
Wikia is a free-to-use site that makes money from advertising. We have a modified experience for viewers using ad blockers

Wikia is not accessible if you've made further modifications. Remove the custom ad blocker rule(s) and the page will load as expected.